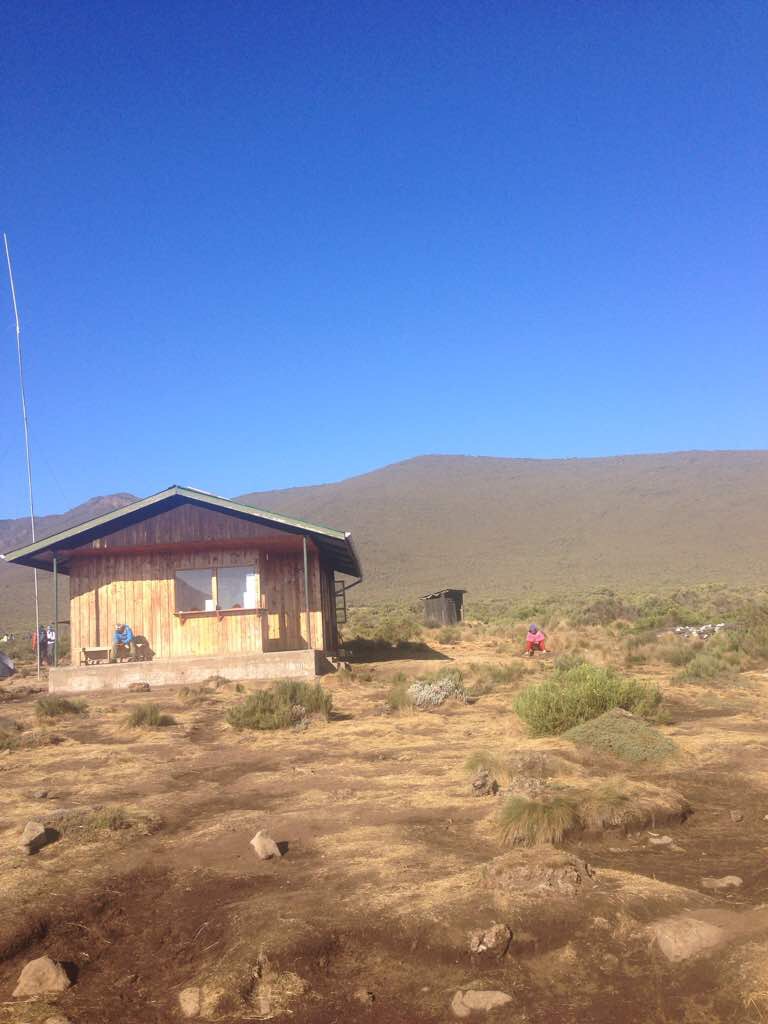 The Shira Route is similar to Lemosho but only lasts six days instead of eight. Naturally, this means your chances of summit success drop. However, the route is generally easy, with shorter distances and a shorter summit night. Climbers should note that if the Arrow Glacier approach is used, there is an important restriction: You must proceed to the summit once you start; it is very difficult, if not impossible, to go backwards because it is too steep.
On Day One, you will be transported to the Londorossi Gate in Western Kilimanjaro and from there to Moram, where you will start hiking. The terrain slopes gently through the Moorland Zone until you reach Shira I for the night. You will enjoy a beautiful view on the Shira Plateau as you ascend.
On Day Two, you will hike a gradual slope to Shira II Camp for the night. On the way, you will walk mostly in open space. If the weather is good, you will have excellent views of Mount Meru. You will also pass the Shira Cathedral, and this will be your first opportunity to really start acclimating to high altitude by climbing high and sleeping low.
On Day Three, you will again employ the high altitude acclimation technique of "climbing high, sleeping low." After breakfast, you will head from Shira II up to Lava Tower for a lunch stop. After lunch, you will climb up to Arrow Glacier. This will be the highest altitude you have reached thus far in your trek, so you will likely start feeling the effects. After Arrow Glacier, you will drop back down to Lava Tower for the night, where you will have additional entertainment from your professional staff!
On Day Four, you will return to Arrow Glacier, which will be your base camp for summit night. You will receive detailed instructions from your guides before embarking during the wee hours of the morning for Uhuru Peak.
Day Five is summit night! Because the route to the summit is a little shorter, we generally start the summit bid a little later, such as at 3:00 am. After summit, you will descend to Millennium Camp for the night. If your group is feeling energetic, you might continue to descend to Mweka Camp, which is at a lower altitude.
On Day Six, you will wake and eat breakfast and enjoy your staff's rendition of the Kilimanjaro and Jambo songs. After that, this is the proper time to tip your staff. (See "Tipping Guidelines".) Make sure you show your appreciation for the excellent service and their hard work! You will then start your final descent to Mweka Gate. At Mweka Gate, you will eat a hearty lunch, drink Kilimanjaro beer and/or soft drinks, and have the opportunity to gift some of your gear and clothing to the staff.
Following lunch, you will receive your certificate if you successfully summited, and we will provide transportation back to your hotel, after which you can arrange for safari, an excursion to Zanzibar, or something else tailored to your needs.
shira
At-a- Glance
Day 1: lONDOROSSI Gate to shira I camp
Day 2: SHIRA I CAMp to shira II camp
Day 3: shira II camp to arrow glacier to lava tower
Day 4: lava tower to arrow glacier
Day 5: arrow glacier to summit to millennium camp
DAY 6: millennium camp to mweka gate